Installing skylights is the best way to improve natural light in your home. Not to mention that it adds to the aesthetic of your home.
With the large variety of products available, skylight installation has never been easier and more accessible. With designs to fit any roof type, there's no reason why every home can't enjoy the benefits of a few quality skylight products.
All You Need to Know About Skylight Installations
It's important to do a bit of research before deciding on which product will be best suited to your home. We've listed a few of the questions we're commonly asked by prospective clients.
What are Some of The Benefits of Installing Skylights?
Energy efficient: Utilising natural light reduces your electricity bill and is considered to be a sustainable energy resource.
Improved wellbeing: With the increased natural light, general wellbeing is improved.
Mould reduction: Installing skylights reduces mould growth by allowing more natural sunlight into your home.
Read more about The Benefits of Skylights to You on our blog!
What Should I Consider Before Installing Skylights?
There are a few important considerations before installing skylights:
Purpose: Skylights can be installed as a practical source of natural light to increase visibility in your home. A few strategically placed skylights can turn a dark home into a vibrant environment. Make sure you know why you want skylights as that will help your skylight installer choose the product most suited to your needs.
Size and shape: The size of your room will determine the ultimate choice of skylight. Installers suggest you choose the biggest skylight possible for your space. This will guarantee that you get the best ventilation as well as maximum sunlight.
Placement: Choosing where you want to put your skylight will determine if you need more than one. Ordinarily, skylights are placed in the centre of a room to ensure the whole room benefits from the addition of extra light.
Accessories: We have a wide variety of accessories that will increase the convenience of your skylight. It's a good idea to consider the accessories you'd like to add so that you can include them on your initial purchase, that way you'll save money and inconvenience!
What is a Roof Hatch?
In short, a roof access hatch grants you access to your roof or terrace. Needless to say, this makes roof maintenance a whole lot easier.
Our Belray roof access hatches are available in opal or clear domed for light transmission, or insulated metal tops. And all roof hatches are fitted with internal or external latches for ease of access. A big advantage of our roof hatches is that they are suitable for all roof types.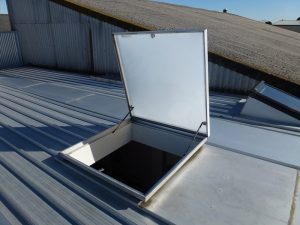 What Skylight Products Can I Choose From?
We have an extensive range of products guaranteed to suit any roof. Let's have a look at some of the options you can choose from at Belle Skylights:
Solatube daylighting: These types of lights are ideally installed where natural sunlight is non-existent.
VELUX skylights: These products are available in a range of manual and electrically operated skylights and roof windows, with blinds and other accessories to suit.
Belray Ecolite: This product is ideally suited to commercial buildings or areas where you might need optimum light transmission and low solar heat gain.
Selectolite: Hospitals, offices and schools often use these types of lights because they cause a large reduction of both glare and solar heat.
Intalok: This product is among our most popular because it enhances the design of just about any room. It's often chosen as the perfect option for kitchens, large entertainment areas, or custom-designed areas.
Our website features an extensive catalogue of products with all the information you need to make the right choice. Our professional installers are also standing by to answer any product related questions you might have!
How Do I Maintain My Skylights?
Clean water is usually enough to clean your windowpanes. But, if you need a more thorough clean, use a mild soapy solution and a lint-free cloth or a non-metal window squeegee. Don't use abrasive cleaning agents such as ammonia or alcohol as they might damage the surface.
If you live in an area where there's hard water, it would be best to use distilled water to avoid any mineral deposits on the glass.
How Long Does It Take To Install Skylights?
The period of installation depends on the product you've selected as well as the type of roof. If you have selected a large installation, it could take as long as two or three days to complete. Your installation specialist should be able to give you an idea of the length of time it will take.
The team at Belle Skylights are ready to answer all of your questions – Just ask us! To get the best deal on a skylight product for your home, give us a call on 1300 168 374 for your quote TODAY!